LOKELMATM

▼
Sodium Zirconium Cyclosilicate
SWIFT* K+ REDUCTION AFTER ONE HOUR.1,2
SUSTAINED K+ CONTROL FOR UP TO ONE YEAR
WHEN USED AS A MAINTENANCE THERAPY.†1
NOW IN YOUR HANDS.
New, highly-selective LOKELMA (sodium zirconium cyclosilicate)
is indicated for the treatment of hyperkalaemia in adult patients1
*In an emergency situation, standard of care should be used in line with local or national guidelines
†Clinical trials with LOKELMA have not included exposure longer than one year
About Hyperkalaemia
The consequences of hyperkalaemia can be life threatening5,6
Hyperkalaemia is often asymptomatic and can progress rapidly.5
Severe hyperkalaemia is a medical emergency that may cause arrhythmia and sudden death.*5
Elevated K+ is a significant predictor of mortality in patients with critical illnesses or conditions like chronic kidney disease, diabetes mellitus and heart failure.7-9
*In an emergency situation, standard of care should be used in line with local or national guidelines.
Hyperkalaemia with Comorbidities
Hyperkalaemia is more common in patients with cardio-renal comorbidities9
Across numerous studies performed by different clinical groups, compared with matched groups in the general population, patients with chronic kidney disease, diabetes and/or chronic heart failure have been repeatedly shown to be at higher risk of hyperkalaemia7-9
Guideline-recommended treatments for chronic kidney disease and heart failure, such as renin-angiotensin-aldosterone system inhibitors (RAASi), also increase the risk of hyperkalaemia10

Hyperkalaemia recurrence is common in patients with cardio-renal comorbidities7
o In a Danish population-based cohort study, hyperkalaemia events occurred in7

28% of 157,766 patients with chronic kidney disease; risks of experiencing a second, third or fourth event were 43%, 57% and 64%, respectively7
39% of 31,649 patients with heart failure; risks of experiencing a second, third or fourth event were 43%, 54% and 60%, respectively8
Potential challenges when treating patients with hyperkalaemia and cardio-renal comorbidities9
If RAASi therapy is modified or discontinued to manage hyperkalaemia, it can compromise important cardioprotective benefits for patients with chronic kidney disease and heart failure:9
RAASi therapy is a cornerstone treatment for patients with heart failure with reduced ejection fraction or chronic kidney disease (especially those with diabetic kidney disease and/or macroalbuminuria) due to the cardio-renal protective effects, which delay disease progression and reduce mortality, cardiovascular events and hospitalisation11-16
Current treatment options for hyperkalaemia are limited, and down-titration or discontinuation of RAASi therapy
is common; meaning that patients lose the important cardio-renal protective effects11-16

In a US real-world study of over 200,000 patients after a hyperkalaemic episode ≥5.5 mmol/L, more patients on RAASi at maximum dose have therapy down-titrated or discontinued than continued17

Many patients on maximum dose RAASi
therapy reduced or stopped treatment after an episode of moderate-to-severe hyperkalaemia17
Adapted from Epstein M, et al. Am J Manag Care. 2015;21(11 Suppl): S212-S2209.
Of the other patients with moderate-to-severe hyperkalaemia 41% were maintained on their current dose and in the remaining patients there was insufficient follow-up data to determine whether or not dose was maintained.
Hyperkalaemia can be a recurrent problem and the frequency of events increases with every episode8
With each hyperkalaemia event, patients with Heart Failure face the risk of more events, with time decreasing between each episode.8
Median follow-up time for heart failure patients (n=31,649) experiencing recurrent hyperkalaemia events in the
Danish National Patient Registry8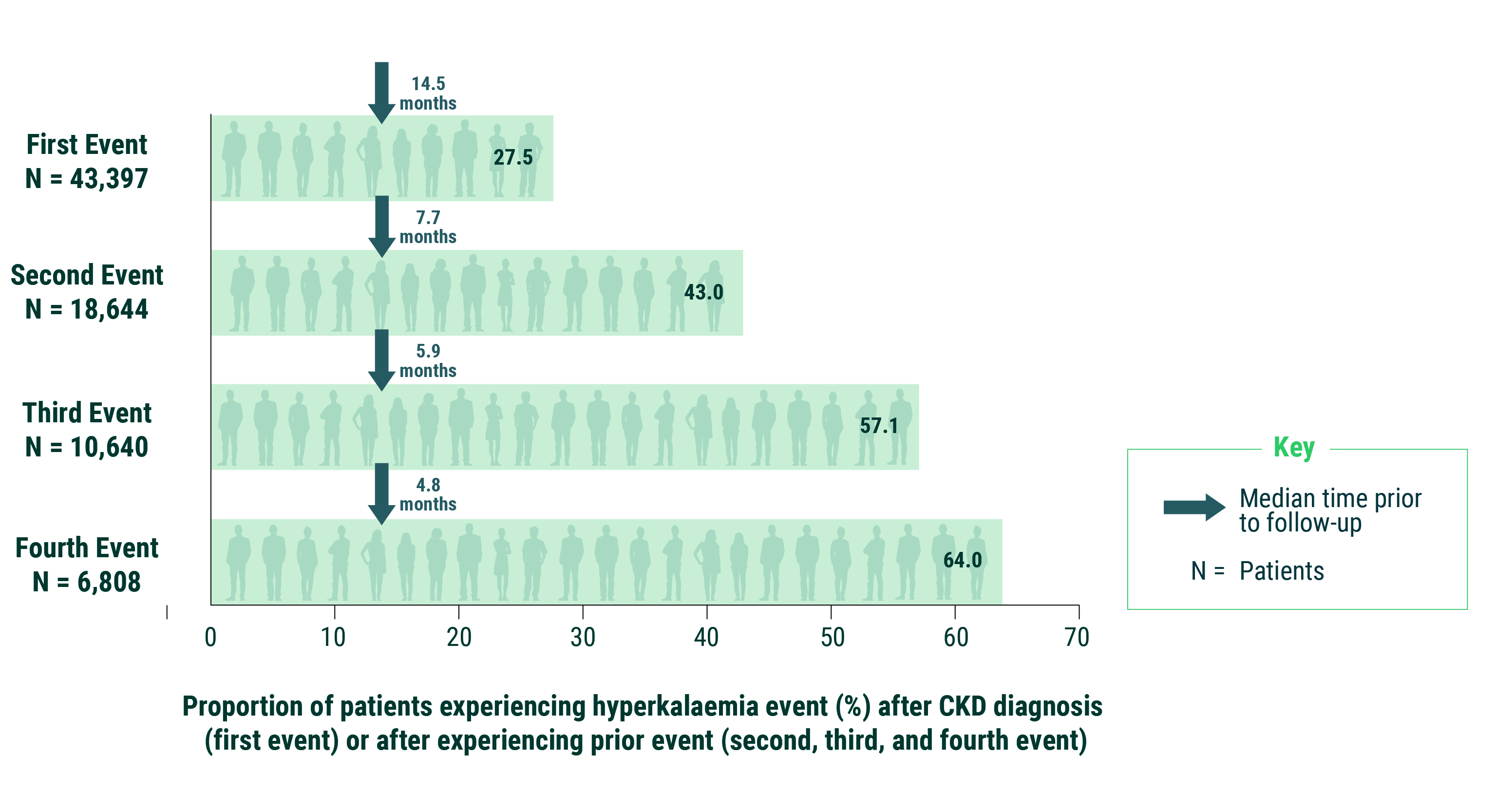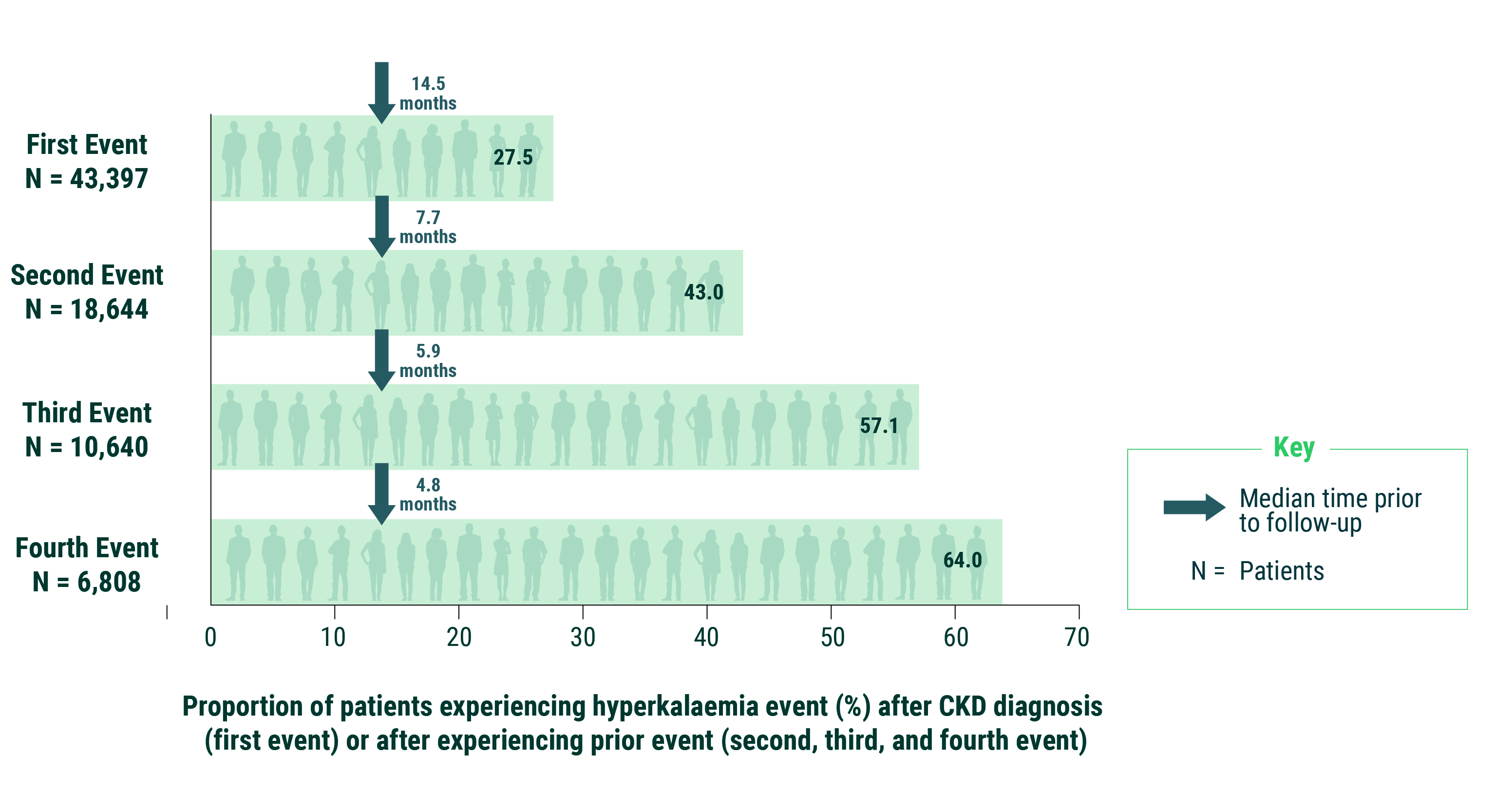 Adapted from Thomsen RW, et al. J Am Heart Assoc. 2018;7:e008912.