BRILIQUE (ticagrelor) is the only P2Y12 inhibitor licensed in combination with aspirin to protect patients with prior MI and a high risk* of atherothrombotic events against subsequent CV events in both the acute and long-term treatment settings†1
*High risk is defined as ≥1 additional atherothrombotic risk factor (age ≥65 years, >1 prior MI, multivessel coronary artery disease, diabetes requiring medication, chronic non-end-stage renal dysfunction)1
†BRILIQUE (ticagrelor) 90mg twice daily in combination with acetylsalicylic acid (ASA) is indicated for patients with Acute Coronary Syndromes (ACS) for up to 12 months. BRILIQUE (ticagrelor) 90mg twice daily is not indicated for use in patients beyond 12 months. There are limited data on the efficacy and safety of BRILIQUE (ticagrelor) 60mg beyond 3 years of extended treatment
Brilique Clinical Studies
BRILIQUE (ticagrelor) demonstrated acute and long-term CV protection across two large studies: PLATO and PEGASUS-TIMI 54 respectively.4,15
The PLATO study compared BRILIQUE (ticagrelor) (180-mg loading dose, 90mg twice daily thereafter) and clopidogrel (300-mg to 600-mg loading dose, 75 mg daily thereafter) for the prevention of thrombotic CV events (CV death, MI, or stroke) in 18,624 patients admitted to hospital with an ACS with or without ST-segment elevation. Patients were treated for at least 6 months and up to 12 months.4
BRILIQUE (ticagrelor) – the only oral antiplatelet with evidence demonstrating a statistically and clinically significant reduction in CV mortality at 12 months compared to clopidogrel in patients with ACS.4,16
The PEGASUS-TIMI 54 study compared BRILIQUE (ticagrelor) (90 mg twice daily or 60 mg twice daily) vs. placebo, each given with low-dose aspirin, for the prevention of thrombotic CV events (CV death, MI, or stroke) in 21,162 patients ≥50 years of age with a history of MI (1 to 3 years prior to randomisation) and at high risk* of another atherothrombotic event.15
*High risk is defined as ≥1 additional atherothrombotic risk factor (age ≥65 years, >1 prior MI, multivessel coronary artery disease, diabetes requiring medication, chronic non-end-stage renal dysfunction)
The Adherence Challenge - BRILIQUE
Less than half of BRILIQUE patients are persistent with their medication at 12 months47
Non-compliance* with the intended DAPT duration of treatment regime results in a higher risk for ischaemic events48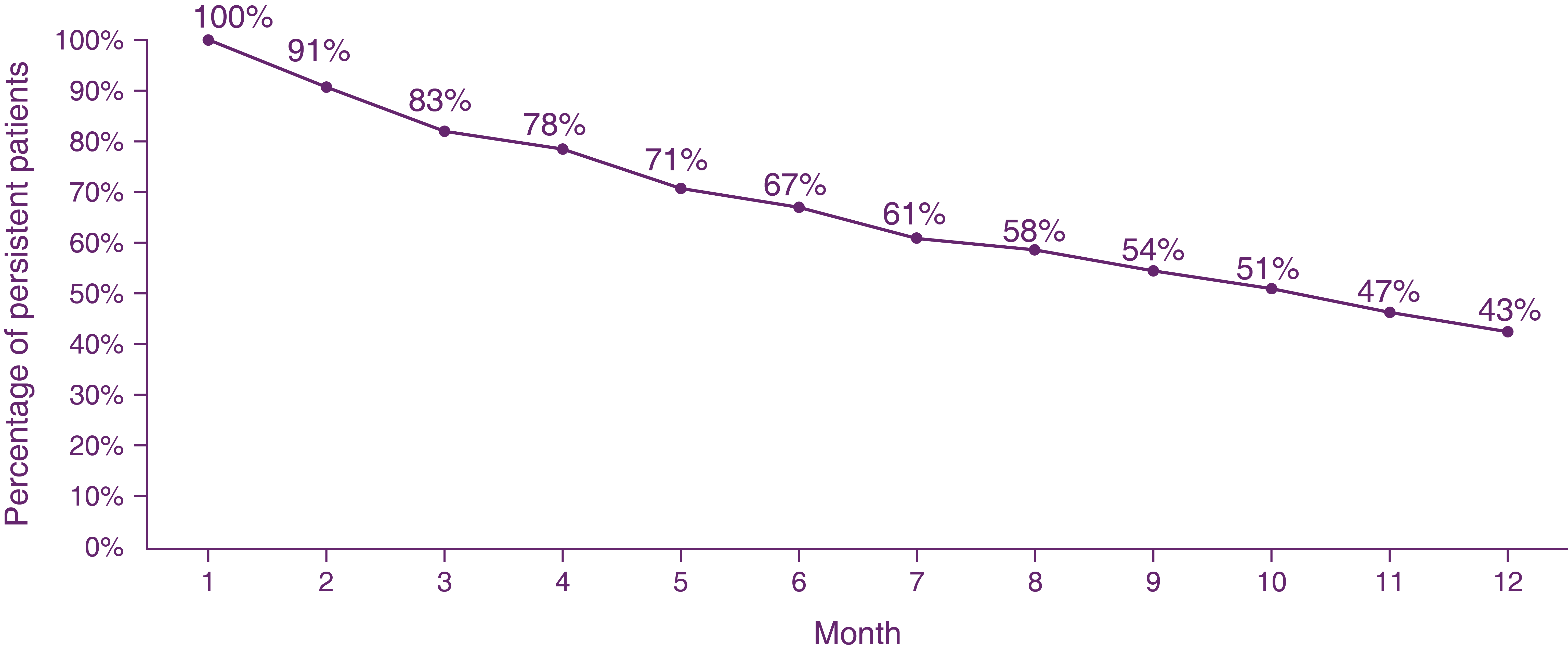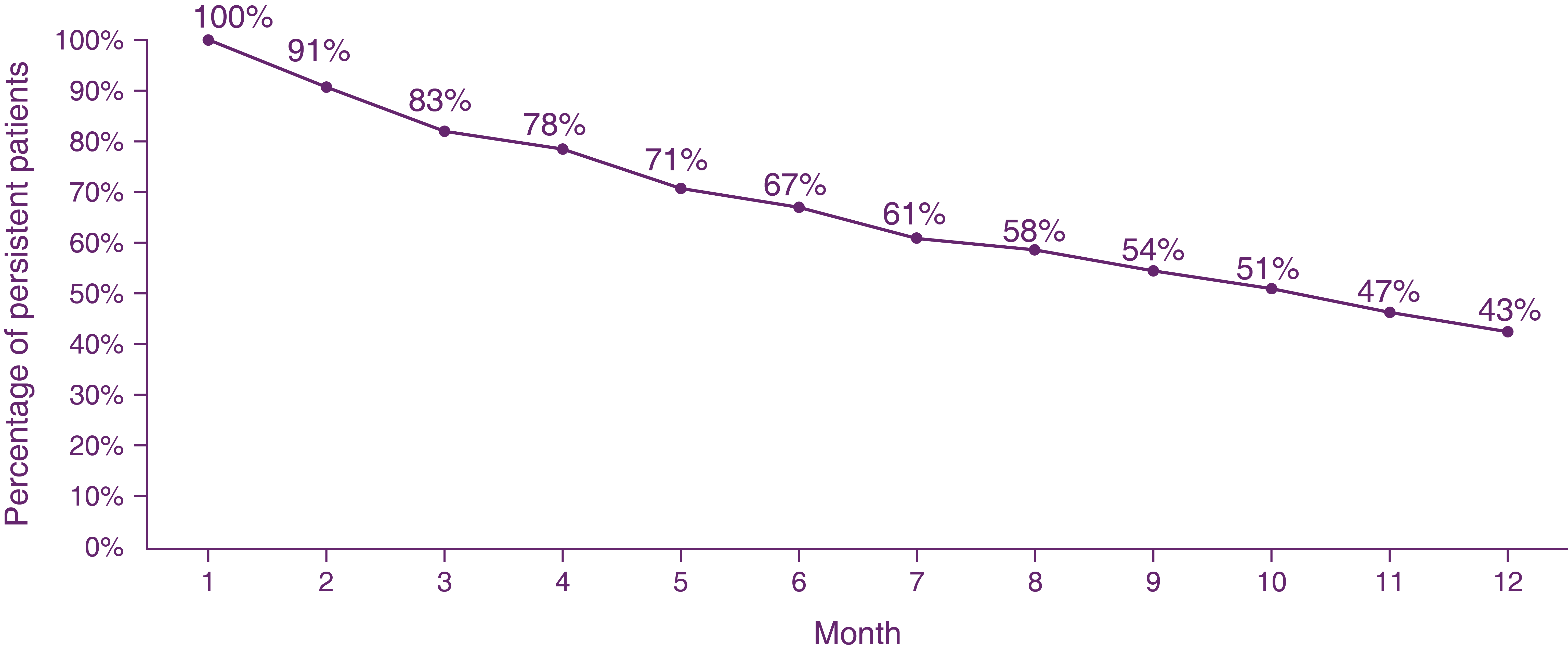 Reminder: The discharge letter should include clear start/stop dates of DAPT treatment and clear communication of transition of care to GPs where appropriate
Data based on prescriptions dispensed. Persistence was defined as the number of consecutive repeat prescriptions dispensed by primary care and did not determine whether the medication was collected or taken by the patient as directed.
*Data based on patients entered in to the PARIS registry where 69% of patients were recommended DAPT for 1 year and non-compliance was disruption of DAPT before the recommended 12 months.
Study enrolled adult patients (aged 18 years or older) undergoing successful stent implantation in one or more native coronary artery and discharged on DAPT. Thienopyridine on discharge was clopidogrel in over 90% of patients.